Dear friends,
With your support, the ACPL Foundation provides significant funding to help ACPL. This fall the library was able to bring back several in-person programs. The library's Book Babies program returned with much enthusiasm. This program for ACPL's youngest patrons and caregivers has consistently been seeing more than 20 pairs in attendance.
ACPL also debuted a new program for elementary school-aged children, filling a need for more events for youth in this age group. Test Tube Tuesdays is a drop-in program that focuses on science, technology, engineering, and math.
Materials is another area the ACPL Foundation is able to support ACPL because of our donors. The ACPL Foundation was able to increase the amount it is providing for materials to fill a shortfall in the library budget. In FY22, we are providing $27,000 in this area.
With your help, the ACPL Foundation plans to provide more than $100,000 to the public library in FY22. Already we have made a great start! The ACPL Foundation's holiday goal is to raise $20,000.
It is with great hope that we invite you to consider making a gift to support your public library. Our ability to continue supporting ACPL at such a high level begins with your willingness to show your love for the library.
The ACPL Foundation exists to make a great library even better. Thank you for celebrating the essential work of ACPL with your generous donation.
Best wishes & happy holidays, The ACPL Foundation
Welcome to the
Library Foundation
The ACPL Foundation exists to help make a great library even better. When you look around Albany County Public Library, know that your gift makes this place more than just a building; it makes it a haven.
Each time you donate to the ACPL Foundation, you help support all ages programming, the library's collection, and technology. What's more, each gift allows the library to continue providing these important services free of charge to everyone in our community.
Thank you for your interest. We invite you to join our community of library supporters.
By the Numbers
With your help, the ACPL Foundation will provide more than $136,000 to the public library in FY22 (July 2021-June 2022) for: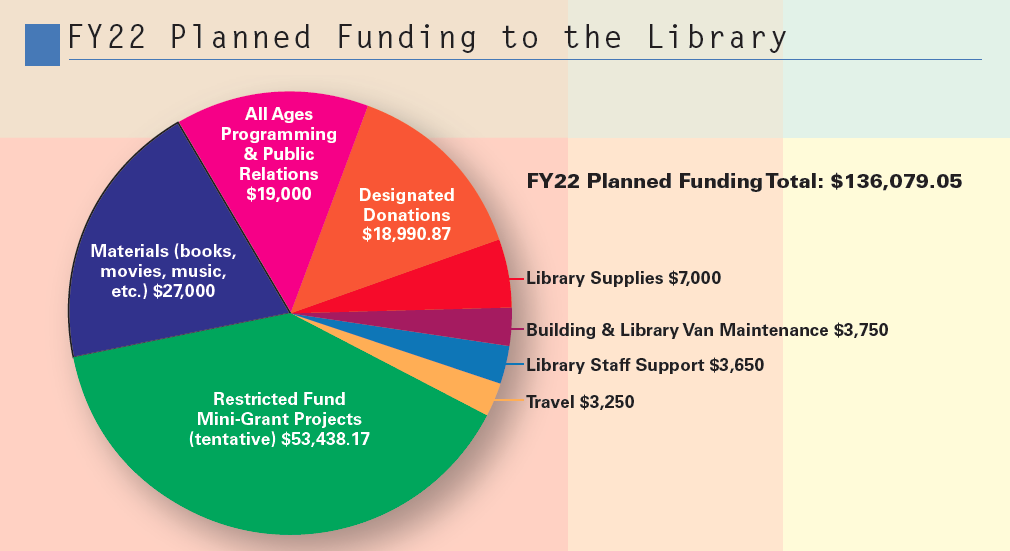 The ACPL Foundation provided more than $114,000 to the public library in FY21! Learn more by reading our FY21 annual report.