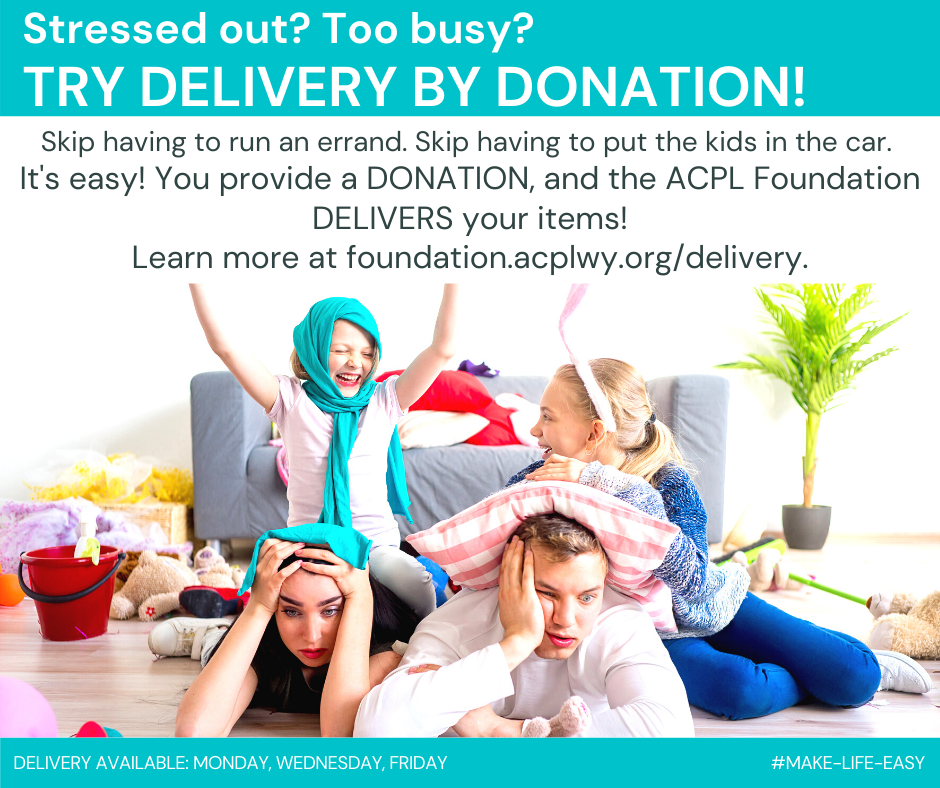 How It Works:
---
Step 1: Follow the Steps 1 & 2 to reserve items on the ACPL website at: https://www.acplwy.org/grabgo.
---
Step 2: Instead of coming to the library to pick up your items, the ACPL Foundation will deliver! Fill out this form to start the process. We will confirm that we are able to deliver to your address.
---
Step 3: Choose to donate by cash, check, or card. For donations by cash/check, we will pick up upon delivery. For donations by card, you will donate when you fill out the form.
---
Step 4: Once you've submitted your form, the ACPL Foundation will email or call you to confirm your delivery.
---
Step 5: Enjoy your items!
Other Information:
Eligibility:

Check the map below to make sure your address is in our delivery area. Sorry! We can't deliver to apartment complexes that have gate codes.
**Do you live in a retirement residence? Are you homebound due to disability, illness, or injury? ACPL offers free outreach and delivery to individuals who qualify. Contact the library (307-721-2580) for more information.

Delivery by donation is available:

for a minimum donation of $10/delivery.
on Mondays, Wednesdays, and Fridays.

Delivery options:

Regular Delivery: Best for cash or check donations. A masked Foundation staff member will knock or ring your doorbell, collect the donation, and drop off your items.
Contactless Delivery: Available for donations by card. A masked Foundation staff member will knock or ring your doorbell and leave your items at your door.